Remembering life in the Philippines: Sentiments triggered by the fresh snow powder that I woke up to this morning.
Mahirap na talaga baguhin ang mga bagay bagay na kina lakihan ng isang tao. Ika nga – "old habits die hard!"
Noong nasa Pilipinas pa ako, sa probinsiya at pati na rin sa Maynila, natu-tulog akong bukas ang bintana. Masarap kasing matulog na may preskong hangin na dumadaloy sa loob ng kuwarto. *Echos*…, wala lang kaming aircon noon at dahil mainit ang klima sa Pilipinas, isa sa mga magagandang alaala ko noong akoy bata pa, ang bentilador or electric fan! Sa sala, sa kuwarto pati na din sa hapag kainan dapat merong bentilador. Sa kuwarto, nakasanayan naming matulog na bukas/umaandar sa buong mag damaga ang bentilador.
Lumaki ako sa isang extended family environment. Ibig sabihin, bukod sa magka-kapatid, kasama din namin sa bahay ang mga pinsan, mga tito at mga tita. Madalas, kung nagpapang abot ang buong pamilya, ay siksikan kaming mga magpi-pinsan at magka- kapatid ko sa isang kuwarto. Parang kaming mga isdang kinilaw – na babad sa pawis dahil dikit dikit kami sa higaan. (Kinilaw -Filipino fish receipe wherein fish is washed several times with vinegar and prepared as salad with plenty of red onion, spring onion, calamansi, chili and tomato.) – I digress!
Going back to the bentilador (electric fan) story: Madalas, ang ikot ng bentilador ay hindi na umaabot sa pwesto ko. Kaya, ini-iwan naming bukas ang bintana sa gabi pag natutulog para kahit pa paano ay may hangin na dumaloy sa loob ng kwarto.
Here in Europe, I sleep with my windows kipped. I don't even turn on the heating in my bedroom. I used to before, but then I noticed that I would wake up with a headache whenever the heating is left on all night. I tried sleeping with windows wide open one Summer night (since i also don't have a cooling system, just like when I was in the Philippines.. old habits die hard!! *wink* ). I did it again in Autumn, just to be sure … finally, when Winter came, I did the same. Voilà… ever since, I always wake up refreshed and headache free. Salamat sa karanasan, natutunan kong iakma ang aking sarili sa maraming bagay-pati na rin sa buhay at klima dito sa Alemanya.
Today, I woke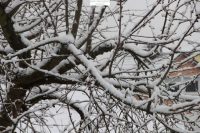 up to a powder white covered window edges.*yeheyyy— snow is back!"
It is my first snow fall this year… quickly, I searched for my Goblin and grab his sword!!! (oh, I just realized that bit sounded kinky, *wink*)…
I meant
, I quickly went to the next room, to get my camera to take a picture of … the neighbor's backyard… hahaha! I live on the second floor, hence the backyard does not belong to my rented area. But It's a free country, so I can take pictures without having to pay for the piece of land, mow the lawn and plant flowers to maintain it. "lol".
The grand part of it is, looking forward to spring and summer, I can also use the lawn on a hot day, if I need to.. just to relax or grill some good meat at dusk. Otherwise, I just use my terrace, which is also not bad.
Today, on a cold snnowy wintzer 🙂 day, I just enjoy the view from my second floor window… with freshly brewed coffee and some pleasant thoughts in my mind… I am happy!