I love books. In fact, when I start reading a book, it is very difficult for me to put it down before reaching the last page.
I guess, old habits die hard.
See, sometimes I think when I came out from the womb of my mother, I was already holding a book.. hehehe.
Instead of playing with dolls, I was reading a book.
Instead of going out with classmates and friends, I was reading a book.
(When I was with classmates, we were also just discussing about the recent books we read).
Instead of playing out on the streets with other neighbors' kids, yeah.. i was reading a book.
I stayed up late nights and until the wee hours of the morning reading a book.
and … ahmmm it sounds like cliche…
but yes Fifty Shades of Grey!I read the trilogy too.
So, there you go.
I finally said it.
I read the trilogy, yes.
I liked the romance part yes.
I did not like the hardcore sex description as much.
In fact, most of the time I just flipped thru to the next page where I get butterflies in the stomach part. Cause, yeah, like most women out there.. I am A SUCKER for romance, rags to riches stories and happy endings.
I am also a sucker for stories where one goes through a very difficult time in life but come out successful and complete in the end.
Who isn't?
I mean life is like that. Sometimes! In a way!
People, who goes through life without going thru any difficulties and trials?
The extent and depth of the trials may not be the same for each individual… but hey, it does happen.
And the moment one is going through a difficult situation, it always feels like it is the most difficult trial in their life. Of course, others may think that their problems or trials is either bigger or graver and then again, it could be that it is just trivial.
But… i digress!
Books, turned into movies… are most of the time NOT justified.
Except for some… I am speaking of course for myself, most are really not comparable.
Okay, I may not have read more than others, but those that I did read and saw the film version as well, which were really justified can be counted with my two hands.
Yeah, I know i bragged that I read a lot and it may not be to some..but still, i remain.
Books and movies…
Books interpreted into movies, well yeah, even more exciting.
Gone with the Wind
Interview with the Vampire
Lord of the Rings
Merlin
The Hobbit
Harry Potter
Illuminati
Pillars of the Earth
Dante's Inferno
What the hell happened to the "Fifty Shades of Grey" film?
Obviously, I finally saw the movie.
Two hours of seating at the edge of my seat, waiting for some kick… some heavy emotional, crazy, psychotic kind of romance coming up.
Sadly, nothing! Not even the BDSM scenes were good enough to really bring out an extreme emotion from the viewers. Well, at least it didn't work for me. *wink*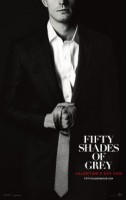 IMDB – Fifty Shades of Grey 2015
Excuse me, but in my humble opinion, the lead actor Mr. Jamie Dornan is not suited for the role as "Christian Grey". I mean, the character of Christian Grey was not given justice by the actor. I was hoping for a real-life version of Christian Grey. Neither sex appeal nor the facial expression was visible.
The sporty Christian.
The boyish Christian.
The businessman Christian.
The overbearing, dominating Christian.
Most definitely NOT the sex-God Christian.
Oh, the romantic part that one feels while reading the book is also zilch!
NOPE. NONE PRESENT!
Unfortunately, overall, the different "persona" of Christian was not portrayed effectively.
I can understand that it might be a very difficult role to play.. The character is very hard to fill in.. but hey,… acting? actor? your job? duhhh?
It's a shame.
So, what's all this bruhaha about the film??? Because honestly? It's not worth it.
Just sayin'!